Silly & Cute Lunchbox Ideas
This shop has been compensated by Collective Bias, Inc. and its advertiser. All opinions are mine alone. #GoldfishLunchSmiles #CollectiveBias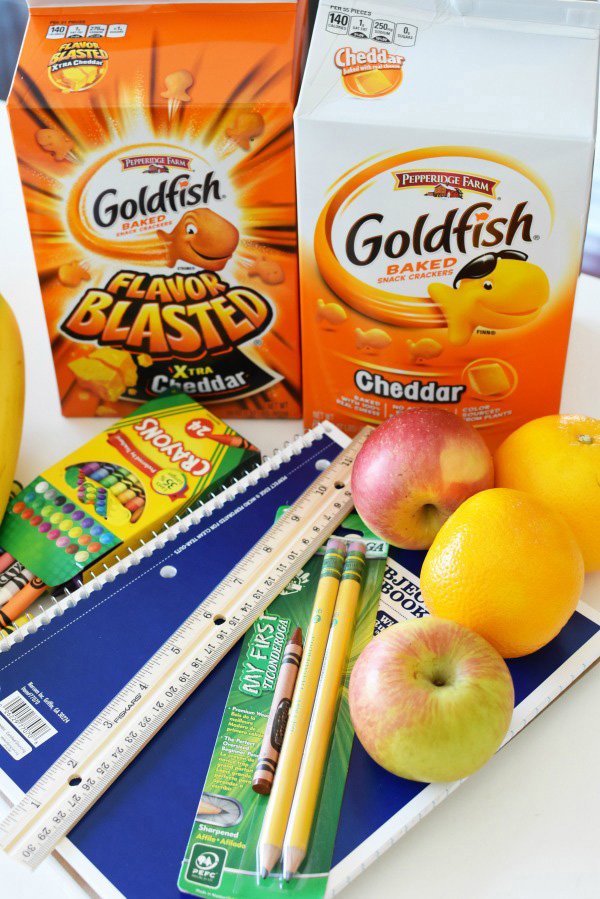 To purchase the produce featured in the image above, find a Walmart near you!
I can't believe that as of September 6th, I will have both a kindergartner and a middle schooler. Where has the time gone off to over the past few years? I still remember my children as newborns, and now, here they are reaching scholastic milestones and helping me pick out lunch box favorites at Walmart.
Can we freeze time for just a little bit? Things have been so chaotic lately between the move and school. I just want to enjoy the remainder of summer and relax with my "babies". As much as I thought I would never say this, I am not ready to be alone during the days. For the past ten years, I have always had a small child with me.
What will I do with all my kid-free time? The house will not be the same once they head back to school. Only when they arrive home at 3 will the normalcy of a full house commence. 3 pm in our home is always a little chaotic because it is snack time.
My kids know that when they get through the door, each of their place mats will have a snack like Pepperidge Farm® Goldfish® crackers.
One thing I always enjoyed as a teacher was seeing what my students brought in their lunch boxes. Seeing the joy in their eyes when they unzipped their boxes to find cute notes, silly faces, or their favorite snack was heartwarming. Now, as a mom to three, I have always tried my hardest to add one fun element to my kid's lunch boxes each day.
Today, I wanted to share some silly & cute lunch box ideas using Goldfish® crackers.
My son is all about sill things, and my girls love cute things. To find the perfect balance, I wanted to share some very quick and EASY lunch box fun that will be sure to help you pack a well-balanced lunch box full of smiles.

Easy plastic bag Goldfish® crackers butterflies
Supplies:
Goldfish® crackers
Permanent Marker
plastic zipper sandwich bags
clothes pin
sticker gems
Directions:
Fill each zippered sandwich bag about half way with Goldfish® crackers.
Pinch the middle of the bag and clip with the clothespin
Add eyes, antennae, and a smile to each clothes pin using the marker
Adhered 3 gems down the clothespin
Add to the lunch box with some fruit and a sandwich

Silly Face Fruit, Sandwiches, & Goldfish® crackers
Supplies:
Goldfish® crackers
Small Velcro stickers
Silly googly eyes
apples, oranges, bananas
Cookie cutter in your choice of shape
Clothes pins
Directions:
Adhere rough velcro sticker to fruit, and soft velcro sticker to a googly eye.
Adhere eye to fruit- voila, you have a silly piece of fruit sure to make your kids smile!
*You can also follow these directions to make a silly bag of Goldfish® crackers which can be tied off with a clothespin.
Additionally, the same can be done with a sandwich. Simply cut the sandwich with a large cookie cutter of choice, and adhere the Velcro pieces to the sandwich bag and eyes.
We typically buy the 30-ounce cartons of Pepperidge Farm® Goldfish® Baked Snack crackers & Pepperidge Farm® Goldfish® Flavor Blasted® Xtra Cheddar Baked Snack crackers at Walmart. Right now, they are on Rollback for $5.98! That is a perfect deal for stocking up for back to school snacks, and lunches.
Get more back to school inspiration with Goldfish® crackers here.
What are some ways you are making your child's lunch more fun and creative this school year?
Looking for Non-Edible Fun Kid Crafts?
Check out this Slime Recipe at Savvy Saving Couple. This fluffy, moldable Cloud Dough Recipe is another fun craft that uses only two ingredients!