Quick and Easy DIY No-Sew Lunchbox Napkins
This shop has been compensated by Collective Bias, Inc. and The Coca-Cola Company. All opinions are mine alone. #HonestKidsRecycle #CollectiveBias We hope you enjoy these No-Sew lunch box napkins and learn more on how to recycle Honest Kids® juice pouches.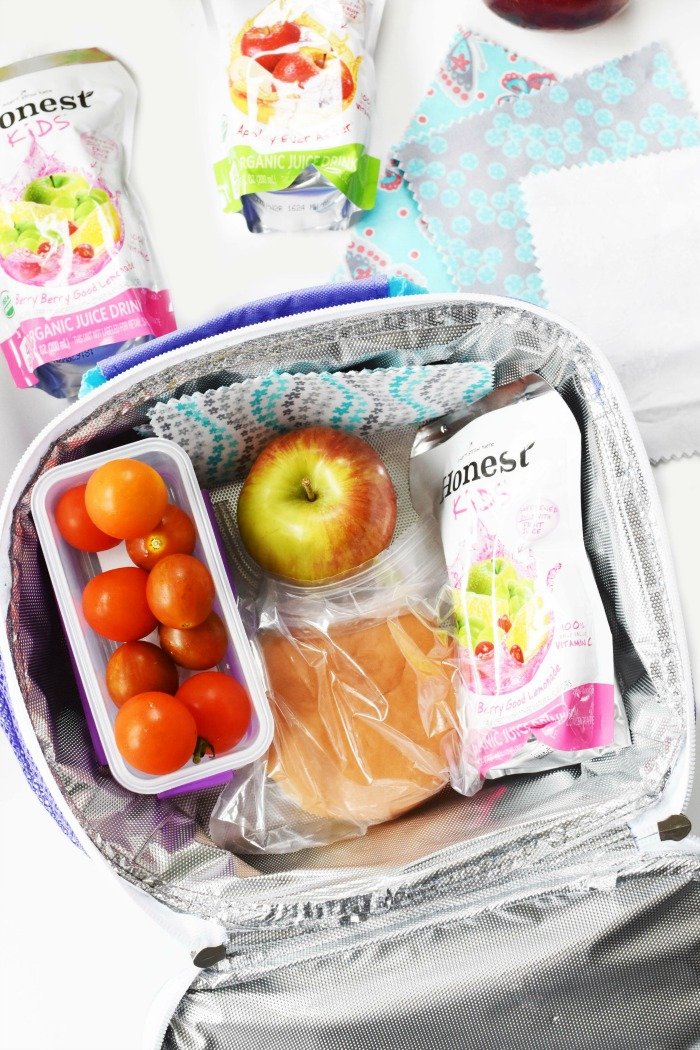 Click the image above to shop Honest Kids® products at Walmart! 
Who is ready for their kids to head back to school?
I so am!
With every post, I type about back to school tips and routines, I yearn for peaceful mornings, and schedules. I thrive off routines and need them so badly it is not even funny. Once I stray to something that is different I feel like I get set back.
But, today, I had one more back to school post (ok, maybe I have 3 more to go), but today's I am especially excited about!
Are you a good seamstress? Can you sew?
I might be able to whip up a mean chocolate ganache, but the truth is, I cannot sew at all. In fact, my 11-year-old knows how to work a sewing machine and needle and thread better than I ever could. So, I stick with no-sew creations.
My kids have often admired the napkins I use in my photography and have asked why they cannot use them for their meals. They don't get that these are more for decorative purposes so I decided to make them some of their own napkins for school.
These Easy, DIY No-Sew Napkins were made easy, peasy thanks to some pre-cut squares I purchased, but if you are feeling super ambitious, you can totally upcycle old materials which I would love to do in the future. These napkins are environmentally friendly because they reduce the need for disposable napkins and can be machine, or hand-washed (although I would air dry them).
Speaking of environmentally friendly, do your children enjoy Honest Kids® Organic Juice? My three sure do and I feel good about giving it to them since it is organic and really tasty. They really love the flavors and the fact that they can recycle their pouches!
We have participated in the HonestKidsRecycle.com program before because it is so easy and teaches the kids how to recycle. While we do regularly recycle, normally these pouches would not locally be able to be recycled.
However, with this free program, you can print out a shipping label and ship your emptied pouches back for recycling! It is a win/win situation! You can even ship back your pouches right in the cardboard box the Honest Kids® juice pouches came in! How's that for recycling?
We typically purchase our Honest Kids® juice pouches and multipacks at Walmart. They can be found in the juice aisle and are available in several flavors.
My kids love the Honest Kids® Organic Appley Ever After® and the Honest Kids® Organic Juice, Berry Berry Good Lemonade.
Ok, so now onto these super cool no-sew napkins! Want to make some for you or your children?
Here is what you will need:
Stitch Adhesive Tape
Small squares of cloth
Iron
Ruler to measure
Scissors
Directions:
Lay your fabric undesigned side up.
Measure the length of adhesive tape needed to line the perimeter.
Press a design side up fabric square over the stitch adhesive tape.
Using your iron on steam setting, carefully, and safely (on an iron-safe surface) iron your layers together.
The heat and steam will bond the tape creating a strong hold.
Wash by hand or in the washer, but I recommend air-drying for best results. So far, these have held up 3 washing sessions.
You kids will love these no-sew, reusable napkins and you will help the environment by not needed to buy so many paper products.
Be sure to head to Walmart to purchase Honest Kids® Organic Appley Ever After® or your child's favorite flavor of these pouches.
Then, once you are done, print a free shipping label and ship back your emptied pouches for recycling. Honest Kids® is a good brand, doing good things for good people. And our planet.
Pin this for later: